If you need language services in Magdeburg then you have come to the right place at Alphatrad, with its team of experienced translators and linguists. Our agency can offer you a wide range of services including technical, legal and certified translations as well as transcriptions and so much more.
We offer:
Translations
Linguistic Services
If you need a German to English translation, Spanish, Portuguese, Italian, Chinese, Russian, Polish, Dutch, Japanese or any other language, Alphatrad Magdeburg offers it's proven high quality linguistic and interpreting services in over 100 languages and dialects. 
To receive your quote within a few hours, please fill out the form below.
Our quotes are free of charge and demonstrate the quality and flexibility of our service.
Opening hours for reception in the office
Monday to Thursday 8.00 am to 4.00 pm
Friday 8.00 am to 3.00 pm
Breiter Weg 10a Hundertwasserhaus 39104 Magdeburg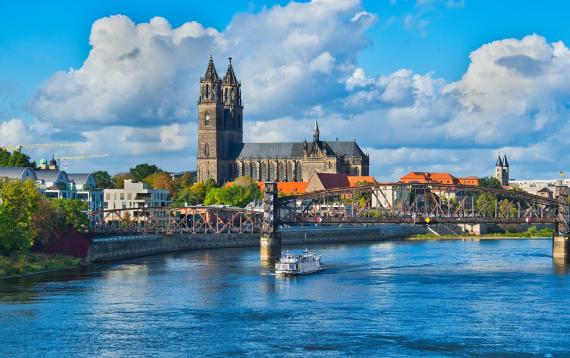 Magdeburg, the city of modernity
Magdeburg has been known as the City of Modernity since the 1920s because the capital of Saxony-Anhalt successfully devoted itself to the construction of social housing estates and has promoted numerous important buildings.
Magdeburg was first mentioned in writing around 805, when Otto I, the first emperor of the Holy Roman Empire, founded the diocese of Magdeburg, which quickly became a hanseatic town, and thus a popular trading centre in the region. Today the more than 1,200-year-old town of Magdeburg is one of the most popular tourist destinations, not least because of its historic town centre.
Economy and Industry
Thanks to its favourable location within Germany, Magdeburg is one of the oldest industrial centres in the country. The region is rich in mineral resources such as potash and salt and, in addition to shipbuilding, mechanical engineering has also settled around the city over the years. Today, the construction of wind turbines is one of Magdeburg's mainstays and the IT sector, like the service sector, has been growing steadily for more than 20 years. Since 1994, a Roman Catholic diocese has existed in Magdeburg and the Jewish community of the city is one of the largest in East Germany with over 600 members. Immigrants from the former Soviet Union in particular, feel at home in Magdeburg and bring along their faith as well as their language.